If you've never been to Melyssa Griffin's site The Nectar Collective, please stop everything right now and spend 3 hours of your day on her site. 3 hours? YES, because that's how engrossed I became with her site when I first found it. Ever since then, I've been a regular reader of TNC's blog, as it's so full of good tidbits about running a creative business.
Through TNC, Melyssa has created a ginormous fanbase (duh, myself included) and continues to live out her passion as a designer and inspire others to do the same. I am beyond thrilled that she was so generous with her time to chat about TNC and her life here.
Check it out:
1. What made you decide that you needed to create your brand?

I decided to create my brand after many years of wanting to form an online community for creatives. Eventually, I found myself stuck in a job that sucked away a lot of my joy and I decided to start blogging as a fun outlet where I could help people. From there, I was able to launch other services to help my community, such as web design and blog coaching sessions!
2. When did you think to yourself "okay, this is definitely viable?"

I didn't go into blogging with the intention of making it my career. I actually didn't even know such a thing existed at the time! But in the first few months, I started making money from sponsors, and within eight months of starting my blog, I was beginning to sell a lot of graphic design work to my readers. 10 months after creating my blog, I was able to quit my life-less day job and pursue blogging and design full time. I think that's when I KNEW it was viable, and that I was only at the beginning of what was to come.
3. What's a surprising challenge that you didn't know you'd encounter along the way?

Hmm I think my biggest challenge is sometimes finding the motivation to work so hard when I have no one to report to.
Though, recently some of my biggest challenges are related to wondering how to grow my business even further. It's hard when all of your friends are at different points in their own businesses, because there isn't always someone to turn to that has been where I am at. That makes it difficult to know how to push my business further logistically.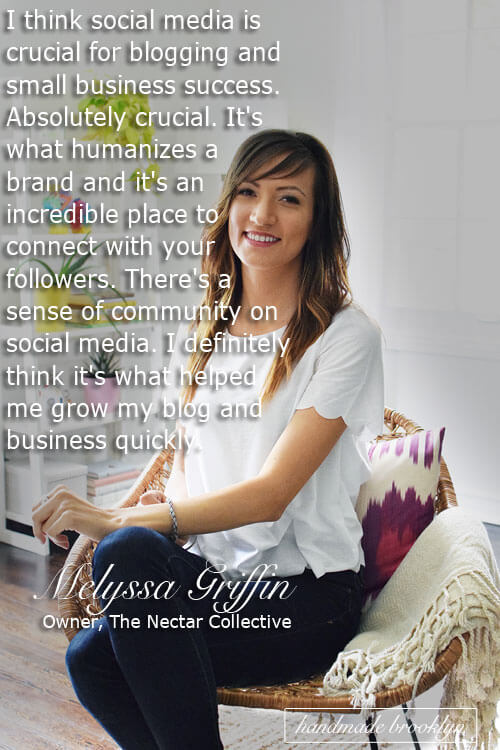 4. How important was social media in your success? Do you think you would have been as successful without the advent of social media?
I think social media is crucial for blogging and small business success. Absolutely crucial. It's what humanizes a brand and it's an incredible place to connect with your followers. There's a sense of community on social media. I definitely think it's what helped me grow my blog and business quickly.

5. What is something someone outside of your industry might not realize about the work you do?

Good question! I don't think they'd expect it to be as business-minded as it is. I think people have many misconceptions about bloggers and designers, but one is that it's "creative fluff" that's as simple as drawing a picture. Actually, a majority of my job, I think, is strategy and analysis. It's left-brain logic meets right-brain creativity. I aim to find strategic, creative solutions to problems. Basically, I don't know if people would assume there's much strategy involved, when there certainly is.
Check out Melyssa's blog The Nectar Collective for millions of tips on business life, social media, and design.