Sara Villari is the poster child for multi-talented entrepreneurs. She has not only built a well-loved brand that has been in the most aspirational of stores and media outlets, but within the past 3 years she has also opened Occasionette, a gift store in Philadelphia that has garnered awards, press mentions, and a crazy loyal fan base.
Sara and I chat on Skype occasionally and I actually remember when she was thinking about leasing the space for Occasionette. It all seemed very "maybe possibly someday" like she was just sort of thinking about it, but by the time we spoke again she had filed the paperwork to register the shop as a business and was on her way to securing the spot. I am constantly amazed at her drive and can't wait to see what she has planned for the years to come.
Sara was awesome enough to talk about what goes into creating an award-winning business below. I hope it's as motivating for you to read as it was for me!
1. What made you decide that you needed to create Occasionette?
Occasionette was born out of a realization that the majority of people who were buying items from my line, Girls Can Tell gift co., were buying them as gifts. That happened right around the time that a perfect spot opened up on the heavily foot-trafficked avenue in our neighborhood. And Occasionette was born.
ps. I love the phrasing of this question – I did need to create it, for my mental health and because I really needed this growth professionally.
2. When did you think to yourself "okay, this is definitely viable?"
I ran the initial idea and numbers by my husband, and originally intended to sell primarily my own work in the shop. So I knew that, even in the worst case scenario, I had one of the biggest expenses of running a brick and mortar – inventory – covered. I also got really lucky with this space, and it was actually less expensive per square foot than the studio space I'd been renting around the corner.
3. What's a surprising challenge that you didn't know you'd encounter along the way?
When the shop opened, my studio space for Girls Can Tell gift co. was in the back part of the space, and I found that as time progressed, more and more I wanted that space to feel much more separate from the shop. So it gradually became more and more cordoned off from the shop, until I finally moved the studio out completely in early 2015.
I also wasn't aware of the startling statistic that when one is interrupted from a task, it takes an average of 23 minutes to get back on task. So I've learned that I can only expect to get so many short tasks done on any given day when I'm in the shop. I've been lucky in that we've been busy enough that I can afford to hire a great team, so I now work from home half of the week, where I can really focus and get everything I need to finish done. Then when I'm at the shop, I can be present here, and not worry about a nagging list of shopkeeper chores that need my attention.
4. How important was social media in your success? Do you think you would have been as successful without the advent of social media?
I think we would be successful without social media, since we're using a really traditional business model and we have taken big strides in reaching out to our neighborhood and ingraining ourselves in the local community. But social media allows us to reach people we may not reach otherwise, and to establish stronger relationships with other businesses and people in the city, and for that we're very grateful. We think of social media as a great introduction to the shop for people that maybe don't live in Philadelphia or get down to our neighborhood often.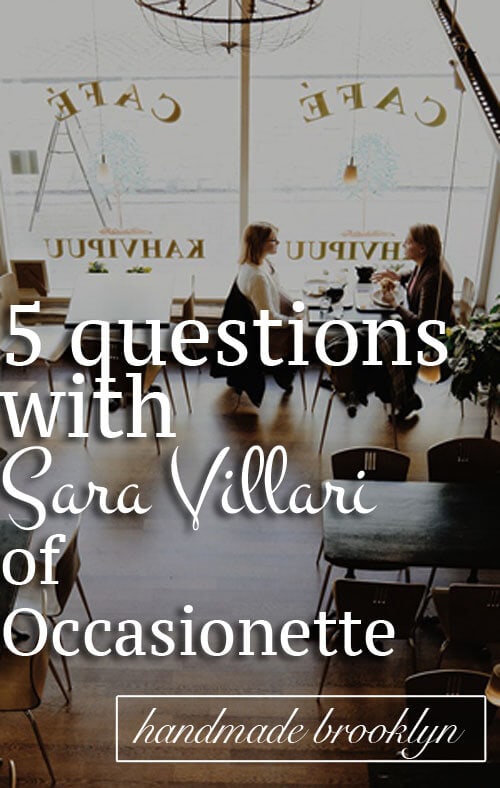 5. What is something someone outside of your industry might not realize about the work you do?
Many people don't realize how big and vibrant the paper and gift industries are (actually, many people probably don't realize that an entire industry exists around stationery). It's simultaneously a giant and very small community – there are so many people doing and making so many fantastic things, but it's also very tight knit and most vendors are very aware and supportive of what their peers are up to. It's also interesting to watch the growth of trends – to see a brand or style launch, emerge, have success with independent retailers, to hit the bigger national retailers, it's fascinating. Then, of course, you typically watch the inundation of copycats and people who were "inspired" by that brand… It's all so cyclical.
Occasionette is an award winning gift shop in South Philadelphia that also sells online, so support Sara and the awesome artists she features!