Let me start with my story.

I have never, ever, EVER EVER had an advertising budget. I couldn't afford one as I bootstrapped my business (with a little infusion from my American Express here and there), so the thought of "you don't think you can afford it, but you can" just didn't make sense. Lean times were abundant, and any profits I made were immediately put back into the company to formulate new products, or satisfy this need I had to create *more*

So since I never had an advertising budget, I had to learn how to get asses in the seats creatively. So I did that with what I call "brain dumps of passion." I would just throw up everything I wanted people to know about me, the product, and the company. I told the story of my cousin Ronnie, and how his severe food allergies forced my family to become educated in the ingredients in the food we would eat.
I'd tell the story about how this turned into a passion for me that evolved into learning about the ingredients in my skincare. What was tocopherol and why was it in my body scrub? (FYI: That's the official name for Vitamin E, and it's used as an antioxidant and NOT a preservative [don't ever ever trust someone that says Vitamin E preserves their lotion. It's 400% untrue and 400% dangerous. The FDA would fine them if they were on their radar.]) And from learning about the ingredients, my "screw it, I'll do it!" mentality came into play, and I started to formulate products I wanted myself.

What I didn't realize, was this brain dump was actually persuasive copy, and by throwing up everything and anything, I was actually writing the beginnings of really effective product descriptions. Over time I began to refine these and learn how to work them to my advantage.

I've done, I think, 7 trade shows in my life. Each show cost me ~$15,000, and that was with building everything ourselves, including the walls, because my budget was so non-existent. See (shout out to Jarred Andrews, my bud for a decade and unofficial booth designer)?

It was at that actual trade show that I won 2 awards:
Best New Product, Natural/Organic
Finalist, Most Innovative Use of Materials
How did I beat companies that make bajillions of dollars and have accounts with Sephora, Anthropologie, and/or Nordstrom?

I wrote the shit out of my applications.

There wasn't any campaign, or advertising, or schmoozing. Truth be told, I still have no idea who the judges were in either of those juries. I won my awards by looking at the criteria these juries were looking for, looking at past results, and writing my application to cater to that data.

That's why I decided to create Perfect Product Copy. Success in business is about creating the conversation with your audience that is persuasive without being slimy. It's about driving a need in your customers that turns "meh" into "I needed this yesterday."

I don't know what other people say about copywriting. Frankly, I'm not a copywriter. I'm an entrepreneur that didn't have a budget for advertising and didn't trust others to write her story. I did it myself, and I want to teach you how to do it, too.
I'm not a copywriter. I'm an entrepreneur that didn't have a budget for advertising and didn't trust others to write her story.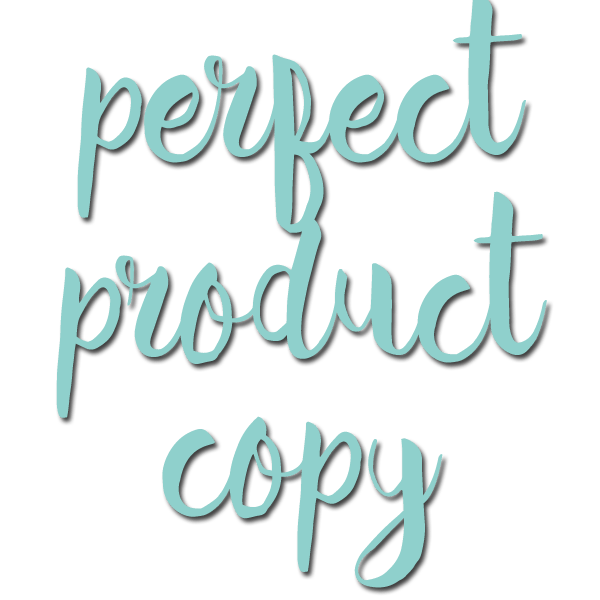 Perfect Product Copy isn't the class I ever dreamt I would create. My grammar is B+ at best, I am staunchly pro-Oxford comma, and writing formal copy is never something I would say is my strong suit. And yet I know my methods work, because I've got the awards, I've got the press mentions, and I've got enough positive experiences to know that I've got something to share that can help a lot of people.
I hope you'll consider registering for Perfect Product Copy. After launch on March 15th, the price will be $247, but since I want to help as many people as I can, you can pre-register for only $97 and save yourself $150.

I know copywriting can feel tiresome and like one. more. thing. that needs to be done. When you learn how to do it well, though, it's something that you can work really hard on in the beginning, and then just coast afterwards and still have it work time and time again.

Give it a shot and I promise you, it can be the tool that pays dividends for years to come.

Click to enroll now and save $150!