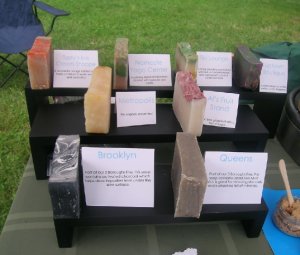 Behold! The first picture of my soaps ever taken at the first craft show I had done as "Metropolis Bath and Body."

I still remember my first soap sale. It was the black soap, known then as "Brooklyn" sold to another vendor who is now widely successful. She's now know as Jetsam. (Thanks for buying the soap, Laura!)

Now, in February 2014, I'm celebrating 5 years of evolution. Each year the brand has changed, either a little, or a lot, trying to find it's niche. I won't deny that I've had a lot of setbacks, starting over time and time again, and maybe would have been more successful if I had stuck with something, but I knew that to succeed I would need to move on, with the branding or with the products.

Despite all of my complaining about not being fabulously wealthy by now, I've achieved a sort of Zen place on my growth. I'm glad I had the guts to say "shut it down" and start from scratch. I'm glad that I've made the friends that I have due to this business, and glad to have had a reason to share all of these things with you and those who listen to me speak at seminars.

Metropolis Bath and Body -> Metropolis Soap Company -> msc skin care + home has been a wild ride. This current aesthetic and branding exercise is the most spendy, and it's really making me consider taking the company to new places I hadn't ever planned on doing before. I've never focused on "scent" alone…for me it always had to be "what's it going to do and how is it going to smell?" The buyers I'm interested in reaching aren't as concerned about that as they are about "what does it smell like and what does the packaging look like?" So be it.

I'm a little sad that I missed NY Now this past month, especially since I need to get my ass in gear to get some new accounts, but I know that in order to keep my costs down (2014 goal!) I've got to be more pragmatic with my spending, and saving for the August show might be a better bet than trying to scramble it all together when money is so tight now.

So this may have been a bit of a ramble. But I'll summarize with: I know I've made mistakes, I'm glad I've learned from them, and I'm driven to make this the best year than all of the others combined.