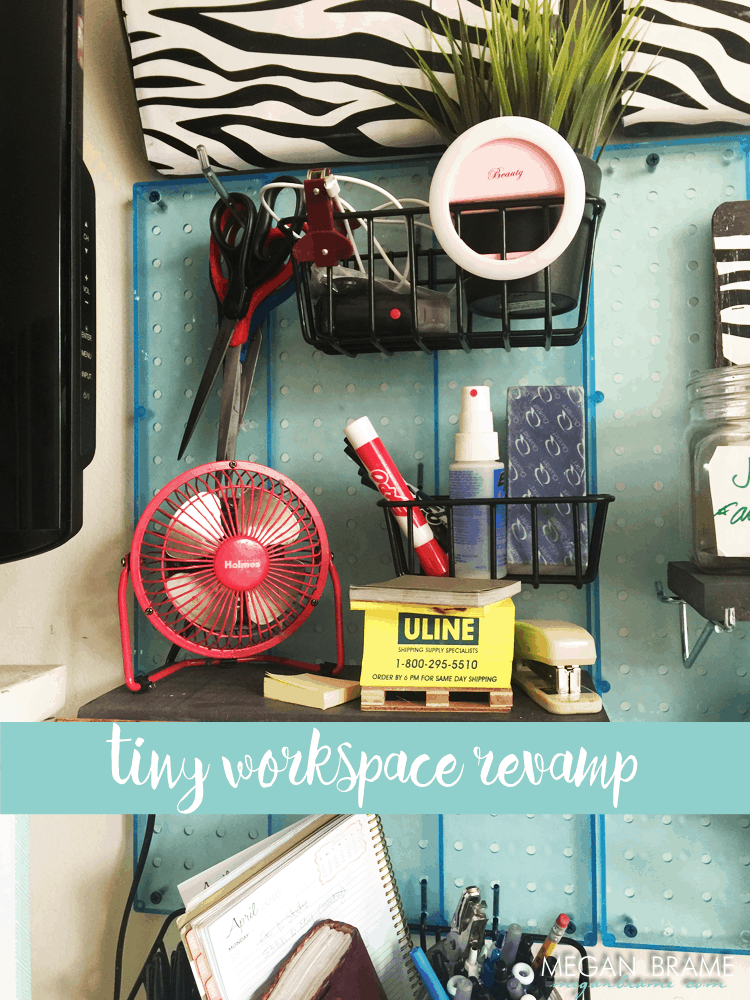 As many of you know, since me and the Mr. are planning to move at the end the year, I decided to save some money by moving my workspace back into our apartment, rather than my old studio. While it's been great to avoid the subways and the schlepping, let's be real here…I live in an apartment in Brooklyn, NY. Saying space is "a little tight" would be an understatement.

"A little tight" also related to my budget for this workspace redo, so using things from my old studio + infusing a little pizzaz with some Staples Brand Products, I went from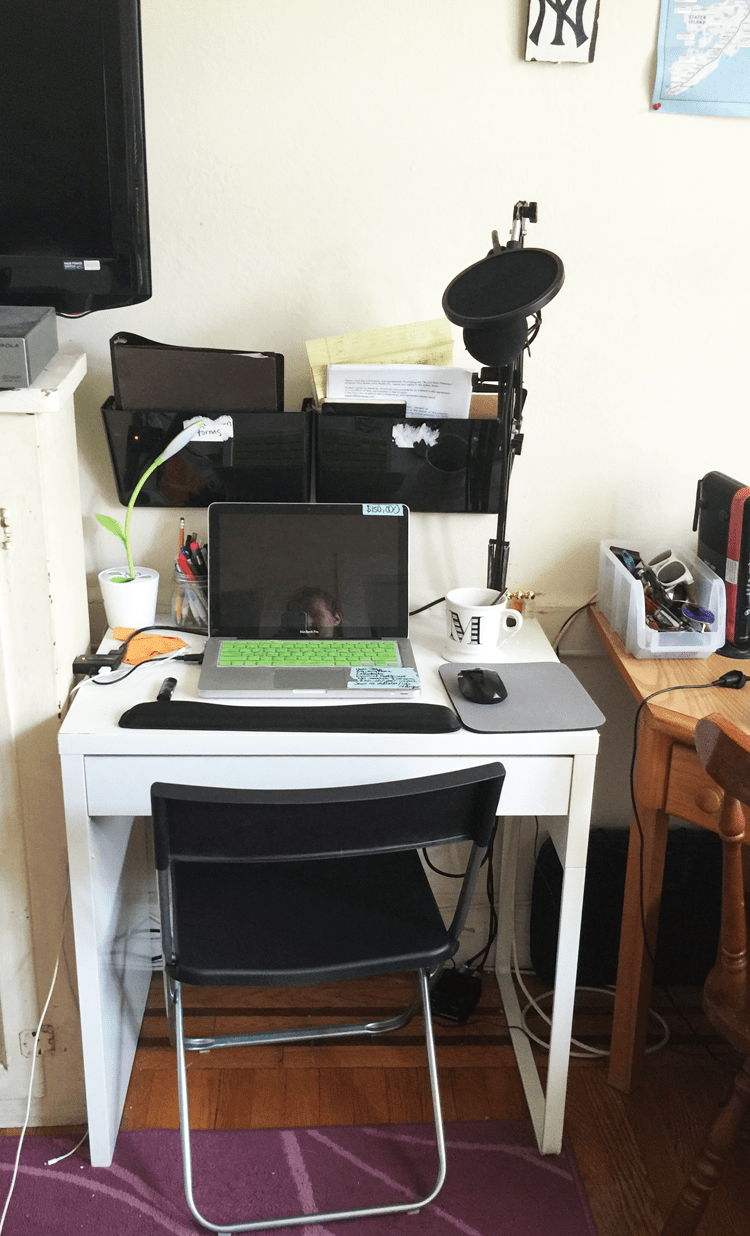 To this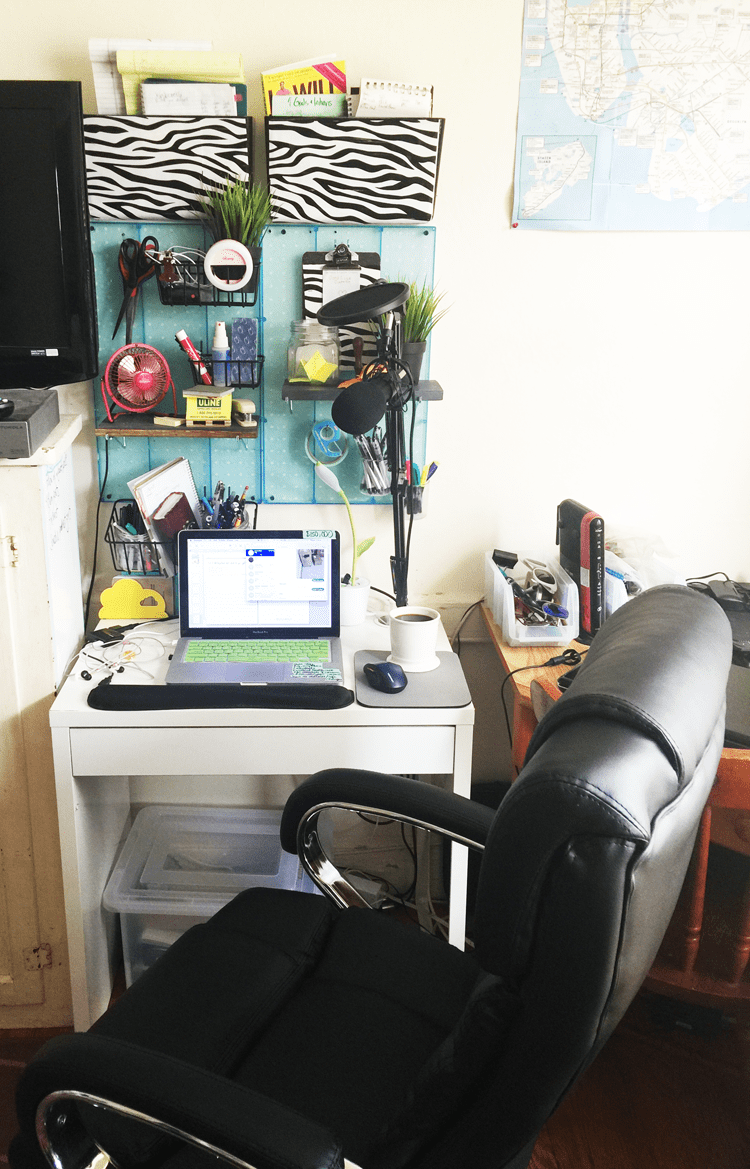 First, let me talk about the splurgiest thing here: My chair. I got Staples' Sonada Bonded Leather Managers chair because I knew I would be spending a TON of time sitting and writing, so this was not the time to skimp (and yes, my old IKEA chair was torture). I. LOVE. MY NEW CHAIR, OKAY? So much so that I've used it to procrastinate. Unfortunately, I'm not the only one who's into it: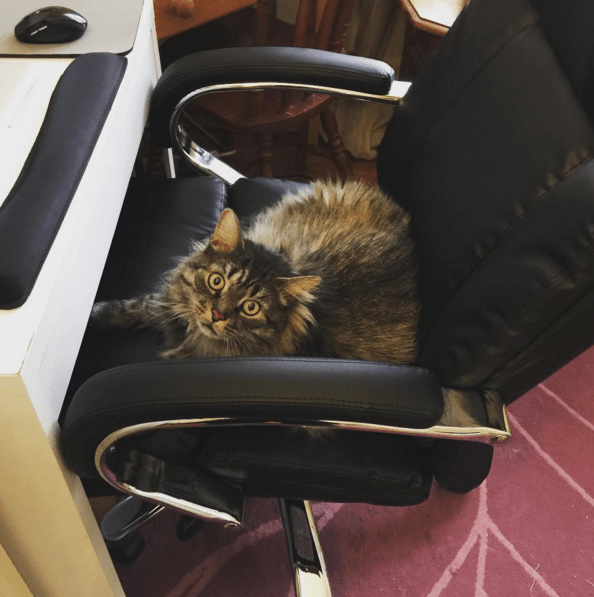 Sigh.
I also picked up a bunch of little goodies from Staples (because: duh, it's Staples!) to help me stock up on necessary items while still keeping it on the cheap: Staples Optiflow Rollberball Pens (omg these are like writing with angel's wings…or something that's a better metaphor. Guys, I help business owners, not novelists), Staples Hype! Pen-Style Highlighters, tape, staples (like the store! Sorry, dork moment), and dry erase stuff…but more on that in a moment.

I knew that re-organizing this space to include stuff from my studio meant I'd have to
Store things where appropriate and
Build up instead of out. Hence the pegboard


I originally got this online, but you can pick up pegboard pretty easily at home improvement stores. Just remember to add a gap between the wall and the actual board, so that you can stick stuff through the holes (My pegboard has ~.5″ lip to it, thankfully, because I would've totally messed that up). I ordered cups, baskets, and hooks so that I could access things I use regularly. The shelves are 1×6″ pieces of wood that I stained Classic Gray and have a little bit of a gap between them and the board, which ended up being a perfect fit for my ruler (which I always seem to lose).

Jar of Awesome idea courtesy of Tim Ferriss. It's a little cheeseball, I guess, but it's great way to visually see how many accomplishments I've made this year. "Good Luck" note courtesy of my Mother-in-Law. Mini clipboard from Staples, zebra wrapping paper from…I have no idea where we got that, actually. A little Modge Podge and I've got a funky new wall hanging.
Side wall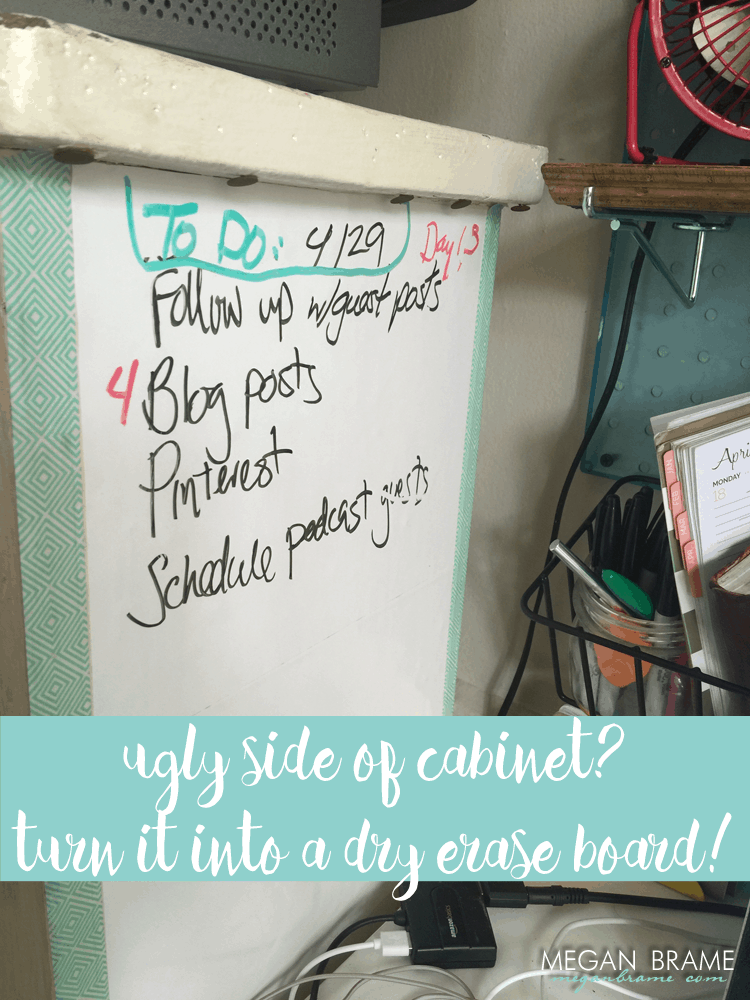 I'm a person that needs to write out my tasks and have them in my face all the time. Also, I'm hopelessly scatterbrained, and often come up with ideas on the fly (hence my need for epic amounts of Post-Its). I decided to take the dull side of the cabinet to my left, which couldn't be moved, and turn it into my daily task list. I purchased sticky dry erase sheets and spritzed it up a little with colored masking tape, and now I can't escape my priorities for the day!
Storage
Last but not least, right? I have at least 2 dozen legal pads, notebooks, and journals that I use to take notes and brainstorm ideas/courses/and projects. As you can see, my desk is tiny AF so having them hang out on it would leave little room for my laptop. Staples to the rescue again! Not pictured, but at my feet is a Staples File Box (Letter/Legal-sized) that doubles as an amazing footrest. Above the pegboard are wall files I Modge Podge'd wrapping paper to, mostly to hide the old labels I had stuck on them in my studio that would not come off.

So there you have it, my tiny workspace revamped on a budget, mostly thanks to Staples and their baller selection of things that I shouldn't be obsessed with, but totally am (pens anyone?). I've got everything accessible to me and now can work without feeling quite so cramped.

-Sent from my tiny, well-organized desk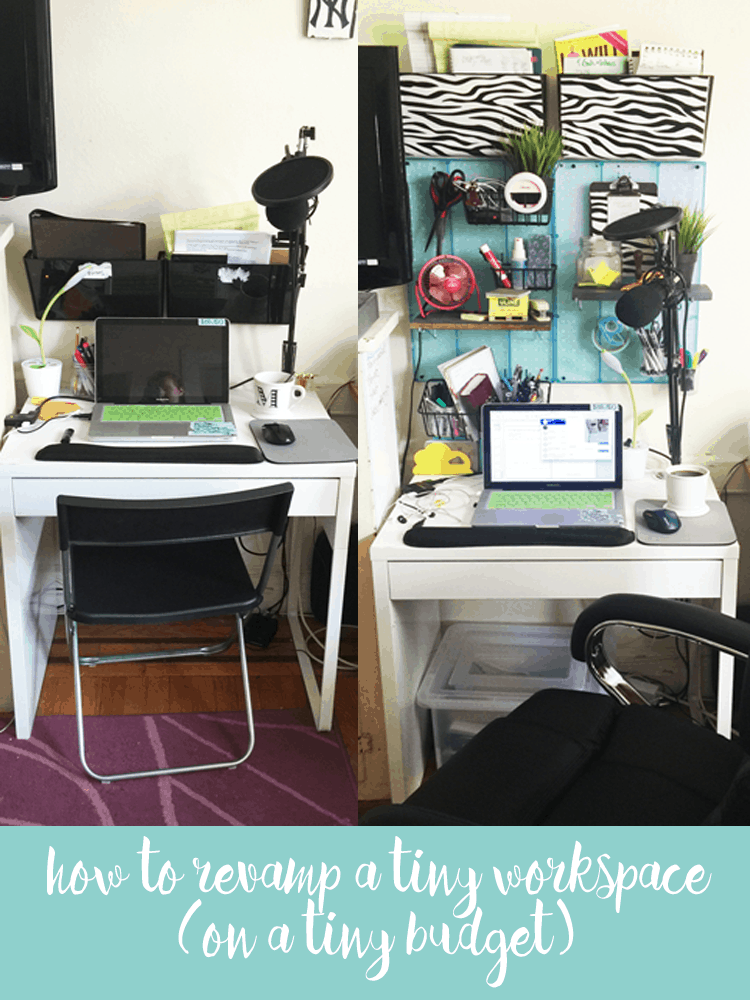 ---
Hey! Just a heads up: I partnered with Staples for this post, and did receive compensation and product in exchange for sharing my updating workspace with you. This post also contains affiliate links where I receive a small commission if you purchase something, but I only recommend things I've actually used.