Full disclosure: it's about to get nerdy. Really nerdy.
So, I've begun moving from ConvertKit + MailChimp over to MailerLite for various reasons (more on that later). My first steps have been…well, let me back up.
The Beige House got a bit of a makeover early this year and now is running on the Genesis framework for WordPress. Genesis is pretty great, except that it's not for the faint of heart. It's very robust, and consequently a little complicated to work with if you're not a coding nerd. If you are (or you bought a theme that runs on Genesis), then you'll probably really love the number of plugins that allow you to customize the framework.
One of these is the Genesis e-news extended plugin. Its main goal, I think, is to hook your site up to a mailing list provider. It's fairly great at running MailChimp, but for some reason, MailerLite is NOT a fan of the plugin. I tried to do a hack job with it myself (how hard can it be, right?), but the closest I was able to get with it was making the "submit" button open up the form in an entirely new window. Not the best user experience.
So, right now I'm on the free plan of MailerLite. If you've been on the free plan of MailChimp, you know that your options for customer support are pretty close to zero. MailerLite, however, will help anyone on the free plan. I know this because they went into my admin for my site and made the plugin work. They did that for someone that isn't even paying them yet.
Hello, now officially a customer for life.
But now you're probably sick of reading and want me to get to the actual guide for how to make this work for your own site. Here's what was inputted into my e-news extended widget:
MailerLite and Genesis e-news extended plugin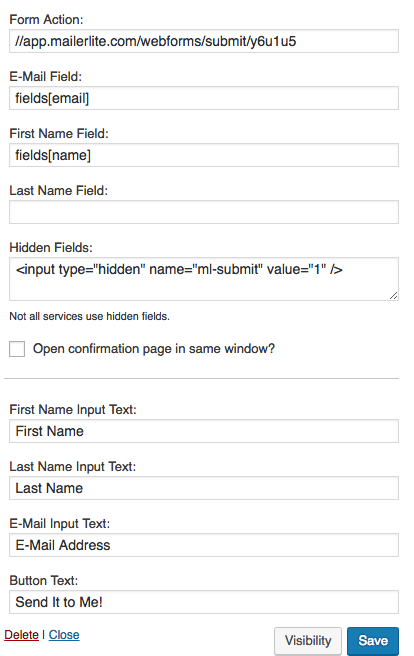 Voila! Remember of course to edit the unique identifier for your form in the "form action" field, but otherwise, you should copy and paste the fields, form action, and hidden fields to replicate what they did for me.
Here's what it looks like on the front end, in the widget (by the way, the template is named Juliette )

Easy peasy, lemon squeezy. Come back later for more info on why I'm dropping the mic on ConvertKit and MailChimp, and how MailerLite made me a customer for life.